Peer-reviewed by Dr. Jerrica Kirkley, MD
Navigating prescription medication costs can be confusing and difficult for a number of reasons. Many people don't realize that the same medication can have very different prices at different pharmacies. Not only that, but if you have insurance, the price you pay with insurance for your medication may not even be the lowest price available.
For people in the trans community seeking gender-affirming therapies, this can get even more complicated. Unfortunately, discrimination and a lack of access to prescription insurance coverage can be very real issues for individuals in this community, and medications can be very expensive. This is where both Plume and GoodRx can help.
With Plume, you can access gender-affirming care with a trans care specialist direct from your phone who will collaborate with you on a treatment plan, follow-up visits, labs, and prescriptions based on your goals. If you have insurance, you can check to see if your prescription medications will be covered under your plan. If you don't have insurance, or if you do but your medications aren't covered or your copay or coinsurance are high, GoodRx can be a great resource to find additional savings to make care more affordable.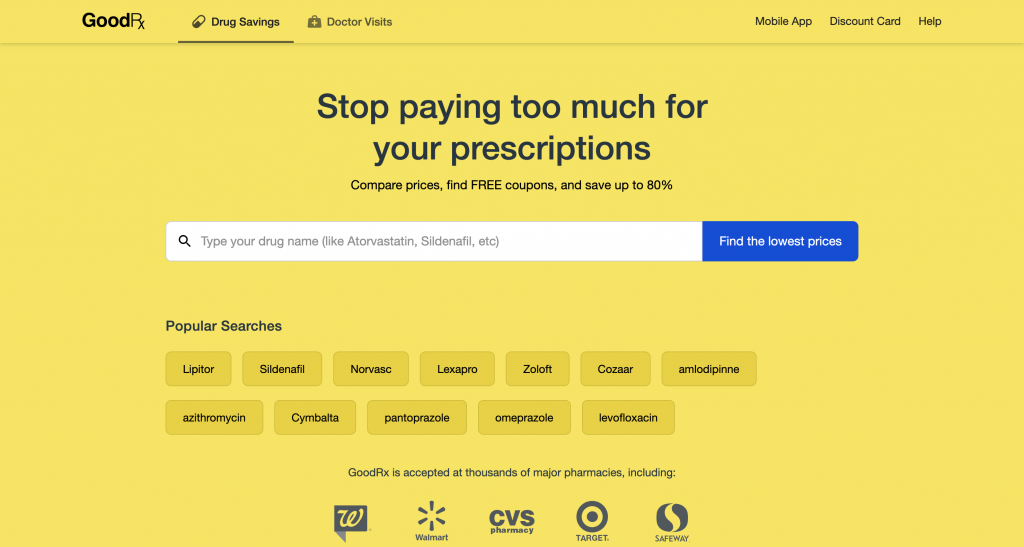 How much do estrogen-based therapies cost with GoodRx?
There are several medications involved in gender-affirming hormone therapy (GAHT), and it is important to note that cost estimates may vary based on your dosing and formulation. First, we'll start with estrogen-based regimens. The cornerstone of estrogen-based GAHT is estrogen, which is most commonly prescribed as a tablet, injection, or patch.
Estradiol tablets, which are typically dissolved under the tongue in GAHT, are available as a generic. With a free GoodRx discount, you can save up to 78% off the average retail price and pay about $3 to $12 per month based on current discount prices.
Estrogen injections, available as estradiol valerate and estradiol cypionate, are also treatment options but may be more difficult to find since pharmacies don't always keep them in stock. You'll want to call ahead to see if it is available or if the pharmacy can order it for you.
Estradiol valerate is available as a generic whereas estradiol cypionate is only available as a brand medication (Depo-Estradiol). So estradiol valerate will typically be a lot cheaper. Currently, the lowest GoodRx discount price for one vial of estradiol valerate is about $50. GoodRx can help you save about 65% off the average retail price. If you have an allergy to estradiol valerate and need Depo-Estradiol, you can see if you qualify for a patient assistance program through the manufacturer, Pfizer. Otherwise, the lowest GoodRx price for one vial is currently about $120.
Estradiol patches come in a variety of strengths, as well as once and twice weekly options. They are available as both brand and generic. With GoodRx, monthly costs may range from around $30 to $150 based on current discount prices, depending on your dosing.
People prescribed estrogen-based GAHT may also take medications called testosterone ("T") blockers or androgen blockers. This includes drugs like spironolactone that block the effects of testosterone, and finasteride and dutasteride that block testosterone from becoming a more potent form. Not everyone on estrogen-based therapy will use these medications, but they are all available as generics and are relatively inexpensive.
With a free GoodRx discount, spironolactone or finasteride can cost a little as $10 for a 30-day supply. Dutasteride is slightly more expensive, with a 30-day supply costing about $15. These estimates are also based on current GoodRx prices.
Progesterone is another option that is sometimes used with estrogen-based therapy. It is typically taken by mouth as a capsule. Monthly costs for the generic version can be as low as $12 to $20 with GoodRx based on current discount prices. This is a savings of about 80% off the average retail price.
How much do testosterone-based therapies cost with GoodRx?
Next, we'll cover testosterone-based regimens. This primarily involves testosterone, which is prescribed as an injection, gel, or patch.
There are several types of testosterone injections, two of which are more commonly prescribed in GAHT: testosterone cypionate and testosterone enanthate. Both are available as lower-cost generics.
The lowest GoodRx price for one vial of generic testosterone cypionate is currently less than $10. If you are allergic to any of the ingredients in testosterone cypionate, you may be prescribed testosterone enanthate. It can be slightly more expensive. The lowest GoodRx price for one vial is currently about $33.
Testosterone gel is another option, and it is available in a variety of different formulations. Notable brand names include Androgel and Testim, but it is also available as a generic. Based on current GoodRx discount prices, monthly costs for the generic versions may be as low as $50 to $60.
Testosterone patches are also available, but they are rarely used for several reasons, one being high cost. Even with a GoodRx discount, patches can cost over $600 per month at current prices.
How to find and use a GoodRx discount
First, search for your medication on the GoodRx website or mobile app. You'll want to make sure that you've entered your location so the price results that show up are for pharmacies in your area. Also, check that you've selected the correct drug (brand or generic), form (vial, tablet, patch, gel), strength, and quantity. You can always contact Plume to make sure that what you've selected matches what is on your prescription.
Then, you can start comparing prices. Each price in your results will come with a way to save, whether that's with a GoodRx coupon, pharmacy savings program, or other type of discount. And each price will also be linked to a specific pharmacy.
To get a GoodRx coupon, click "Get Free Coupon" next to the price and pharmacy of your choice. If you're using a computer, you'll have the option to print, email, or text the discount to yourself so you can show it to your pharmacist when you pick up your prescription. If you're using the GoodRx mobile app, you can save the coupon directly on the phone, and you can pull it up for the pharmacist when you pay for your prescription.
Another option, and one that many prefer during COVID-19, is calling the pharmacy and giving them the information on your GoodRx coupon beforehand so that everything is ready when you get there. If you're getting your prescription delivered, this would mean that you could save with GoodRx without having to make a trip to the pharmacy at all. Keep in mind that GoodRx prices are subject to change. To find the most up-to-date prices, check GoodRx before you pay for your prescription.
How else can GoodRx help?
If you have any difficulty figuring out the best way to make your medications more affordable, the GoodRx Patient Advocacy Team is available to help. You can speak directly to a Patient Advocate by calling 1-855-268-2822, Monday through Sunday, 8am to 7pm CST. They'll be able to answer any questions you have about GoodRx discounts, lower-cost options, manufacturer coupons, and other financial assistance opportunities to help you save money on your prescriptions.
Primary guidelines referenced:
Center of Excellence for Transgender Health, Department of Family and Community Medicine, University of California San Francisco. Guidelines for the Primary and Gender-Affirming Care of Transgender and Gender Nonbinary People; 2nd edition. Deutsch MB, ed. June 2016. Available at https://transcare.ucsf.edu/guidelines
Endocrine Treatment of Gender-Dysphoric/Gender-Incongruent Persons: An Endocrine Society Clinical Practice Guideline. WC Hembree et al. The Journal of Clinical Endocrinology & Metabolism, Volume 102, Issue 11, 1 November 2017, Pages 3869–3903, https://doi.org/10.1210/jc.2017-01658
WPATH Standards of Care for the Health of Transsexual, Transgender and Gender-Nonconforming People. Version 7. https://www.wpath.org/media/cms/Documents/…Book_English.pdf